OK, so what is THIS table about ? This may be a TL;DR for many, but this is what I was thinking about this morning and I have to explain it for it to make any sense.
I was looking at how the team hitting has done collectively and individually against projections. Some explanations:
EDIT: Here is the shortest way to describe this I can think of, but for details, please do read below:
The team EXPECTS David Peralta and AJ Pollock to be over 100 OPS+, and when they are constructing their roster they are banking on that. Meanwhile, they are NOT expecting that from Chris Owings, Nick Ahmed and Daniel Descalso. So Relative to expectations, the latter 3 have had a greater positive impact on the team's offense than Pollock and Peralta, even though all 3 are BEHIND Pollock and Peralta in OPS+
1.) ZIPS projects OPS+ & Steamer projects wRC+ Both are PARK & LEAGUE ADJUSTED metrics, (100 = league avg). I'm using this because raw OPS and runs per game are up again this year. So comparing raw numbers would be misleading.......rising tide raises all boats, yada yada..... so using the park/league adjusted metrics to compare makes sense, as league
2.) wRC+ slightly favors hitters who walk more, and OPS+ slightly favors hitters who have more power. But for MOST players, they come in pretty close.
3.) I wanted to show how the players are doing against BOTH projection systems, but since ZIPS only shows OPS+ and Steamer only shows wRC+, I had to combine them somehow. So I ended up averaging them in the final column.
4.) Impact : This is simply the percentage the player has of the team's PA's multiplied times the Over/Under projections number
(PA/TeamPA) * (over/under projected OPS+-wRC+)
So here is the Gist:
I'm sure the team has their own internal set of projections. They are probably close to the composite average for Steamer and ZIPS. For sure they have some differences on some players. The must have a proprietary system, and their scouting certainly impacts their projected performance for a player. But more or less, the EXPECTATIONS from the front office for each hitter coming in to the season couldn't be that far off from the projected ZIPS and Steamer. It's notable however that Steamer was more pessimistic than ZIPS coming into the season. I wouldn't expect a range bigger than that, in either direction, from the teams front office/analytics group.
ZIPS projected 101 OPS+, and team has a 101 OPS+. Steamer projected 92 wRC+, and they have a 102 wRC+. (Note the total of OPS+ and wRC+ pretty much the same in results, although different for certain players) So far anyway, ZIPS has been more on Target than Steamer this year, for the D Backs hitters, anyway.
What I am showing here is the over/under projection for each player, and the

"IMPACT"

is a pro rated number based on PA's.

SO for example Jeremy Hazelbaker hit way above projections, but only 29PA , so impact is limited. Paul Goldschmidt is above projections, but not wildly so, however since he plays every day, the impact over/under is greater.
This is important because the team, when building the roster, has certain expectations, as mentioned above. And there are always going to be guys out and under performing expectations. What this table does however is allow you to see the IMPACT of that over/under .
So take a look at the table, and then see my additional comments under the table:
TAP wrote:
From shoewizard: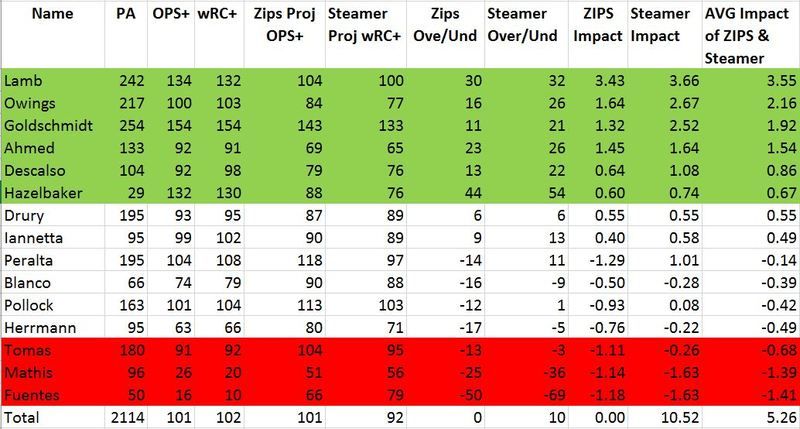 So players highlighted in Green have obviously had the biggest impact over projections, and players in Red have had the biggest negative impact under projections.
Players with white background have had some over/under projections impact, but it's limited.

Lamb
has been outperforming projections by a large margin, and the positive impact is obvious. We saw his slump last year though, and need to hope he does not have a similar one this year.
Owings
continues to improve and develop, and his impact above projections is significant.

Goldy
is back to being Goldy......most of the time, except sometimes on the road.


Ahmed
has provided alot of value over projection, as has
Descalso
, who has the biggest gap of wRC+ over OPS+ as his walks give him big bump in wRC+

Drury
and
Iannetta
are doing a little better than projections, but not by a ton

Peralta
is an interesting case: He actually has the largest negative impact vs. projections in the ZIPS columns, as ZIPS was high on him with a 118 OPS+. But the power has not bee there for David this year. Most notably, remember all those triples he used to hit ? He only has 1 this year so far, after averaging 8 the previous 3 years, and 14 per 650 PA. But Steamer was more pessimistic on Peralta than ZIPS, so that pulls his avg impact compared to projection up. Got it ?

Not much was expected of
Blanco
, but he's been even worse than that

Pollock
is similar to Peralta...had better ZIPS projection and worse Steamer projection. His overall numbers are not bad, but relative to expectations, it's negative. When he comes back, they have to hope that he steps up too, and is not impacted by the groin injury any longer.

Herrmann
would be a disaster if he had more playing time. Bert needs to stop going on and on about the "quality" of his long at bats. Yeah he has the highest Pit/PA on the team, but that needs to translate into more consistent production. He can't live off a few clutch hits forever.
WHICH....brings us to the caboose
Tomas
REALLY needs to heat up......especially if Lamb cools, they will need Tomas to flip it around, much like last year.
And
Mathis
and
Fuentes
, despite limited playing time, have really been a HUGE negative drag even against the low expectations that existed for them in the first place.
The only thing we can say here is that Mathis seems to provide the stability that allows Greinke to excel, and the pitch framing and defense metrics probably understate his positive impact in those areas.
So there you have it. A slightly different way to look at performance , vs. projections, and the impact it has on the team overall.
Cheers